Seven consecutive years of gold award-winning health and safety for Starfish Construction
Every award and accreditation is a testament to the success of Starfish Construction, but a health and safety award is always something we are incredibly proud of accomplishing.
Starfish Construction is very honoured to announce that we have achieved the Health & Safety Gold Award for the seventh consecutive year at the National Federation of Roofing Contractors (NFRC) 2021 Roofing Awards.
The NFRC Health & Safety in Roofing Awards aim to promote a positive attitude to Health & Safety and reduce accidents and hazards, which will help the industry, our clients, government bodies, and the public sector.
"I would personally like to congratulate everyone at Starfish Construction who work every day to keep our sites safe and care for their colleague's safety. It is also essential we look after our client's safety and the safety of the general public wherever Starfish Construction is represented." Tommy Cadden, Director HSQE, Starfish Construction.
The importance of Health & Safety Management
To achieve this industry-recognised award, Starfish Construction must demonstrate our safety management record and commitment to creating safe working practices across our roofing projects.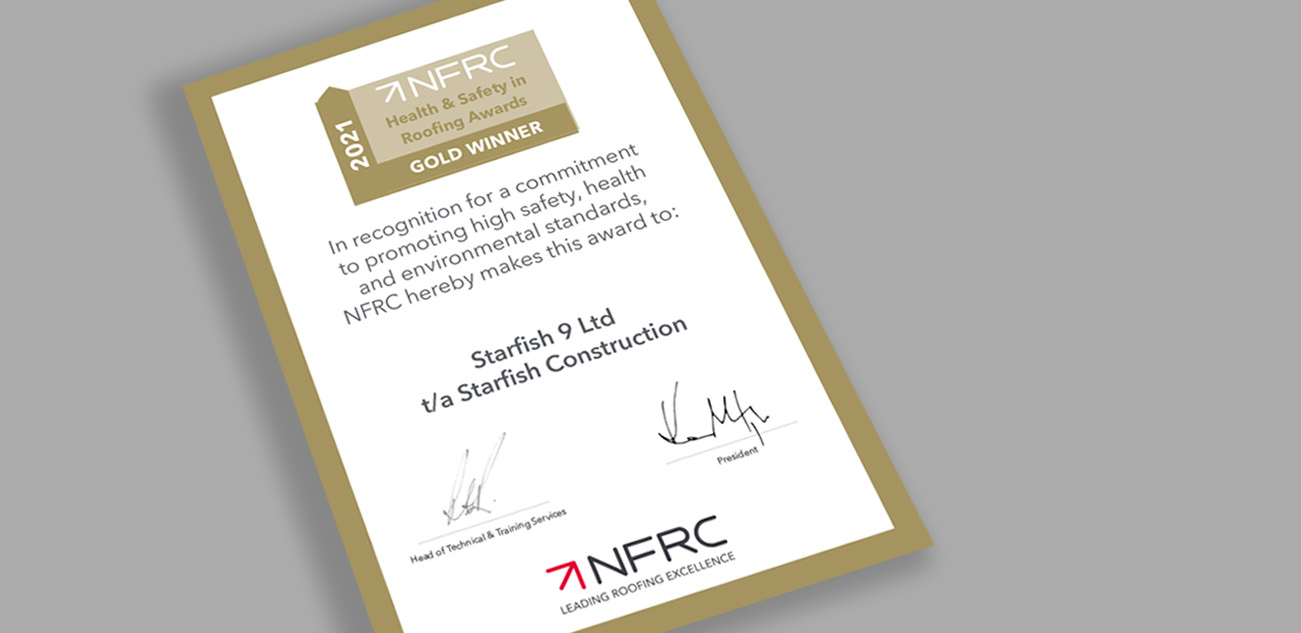 The NFRC recognised that when granting the gold award for the seventh consecutive year, Starfish Construction has continued to demonstrate comprehensive health and safety procedures, complied with all relevant statutory requirements and Codes of Practice. We were able to show our ongoing training and achieved a consistently low accident rate.
The NFRC is the largest and most influential roofing trade association in the UK, promoting quality contractors and quality products, ensuring that its members are at the forefront of all roofing developments. Starfish Construction is proud to be part of the NFRC will continue to commit to health & safety in roofing.