Starfish Construction Receives Renowned Achilles Certificate of Audit with Perfect Scores
Once again, Starfish Construction has proven its unwavering commitment to excellence by receiving our latest, highly esteemed Achilles UVDB Certificate of Audit, a Global Leader of choice for supply chain risk and performance management. This prestigious recognition underscores Starfish Construction's dedication to adhering to the highest industry standards across Safety, Health, Environmental, and Quality practices and procedures.
As a registered supplier on the UVDB Verify Database, throughout the Category B2 2-day Audit, Starfish Construction demonstrated an exceptional attitude and processes in ensuring safety, mitigating risk, and delivering sustainable practices in our operations.
Undergoing rigorous evaluation, we've proudly achieved a perfect score of 100 in each critical area audited, setting an exemplary standard.
The 2-day audit includes a detailed audit of a supplier's Management System and physical on-site Assessment. Through attaining Achilles UVDB B2 Standards, Starfish Construction demonstrates a reduction in risk for any potential buyer of our services, bringing credibility and reputational protection. Only the most trustworthy of companies receive it.
Tommy Cadden, HSQE Director at Starfish Construction, expressed his delight at receiving this prestigious certification, remarking, "The Achilles Certificate of Audit is a testament to the tireless efforts of our management team and the dedication of every single employee at Starfish Construction. It showcases our relentless pursuit of excellence and commitment to the highest safety, quality, and environmental stewardship levels."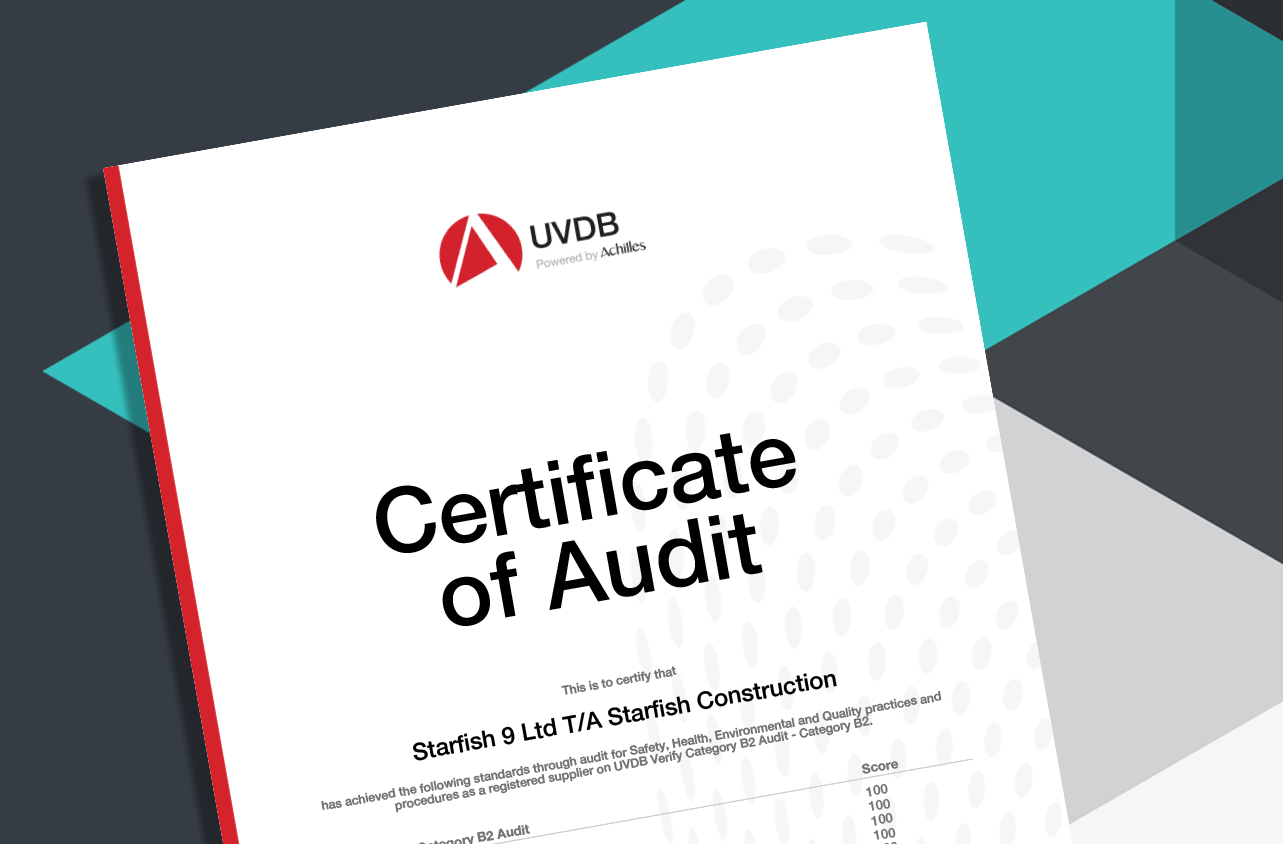 The UVDB Verify Category B2 Audit delved deep into several essential aspects of Starfish Construction's operations. The company's steadfast dedication to Health and Safety, Environmental Sustainability, Quality Management, and Corporate Social Responsibility earned a perfect score of 100 in each domain. This accomplishment is a powerful recognition of the stringent measures and robust processes we employ to guarantee our workforce's and stakeholders' well-being while delivering our essential service solutions.
The audited service areas reflect the diverse capabilities of Starfish Construction, and the perfect scores in each category reinforce the company's proficiency across all operations.
The audit covered the following:
Building/Office Maintenance & Refurbishment Services
Plumbing Services
Industrial Painting & Specialist Coating Services
Roofing Services
General Building, and
Facade Work
Starfish Construction leaves no stone unturned when it comes to industry standards.
"Our customers across various sectors can rest assured that their projects are in capable hands with Starfish Construction," Tommy emphasised. "We take immense pride in delivering outstanding results while prioritising the safety of our team members, clients, and the environment. This Achilles Certificate of Audit stands as yet another testament to the credibility and reliability that Starfish Construction embodies."
"We thank Achilles for assessing us and awarding this certificate, and we extend our heartfelt congratulations to our management team and all employees. Their dedication and hard work have been instrumental in achieving this recognition, and we are inspired to raise the bar continuously and set new industry benchmarks."
Tommy Cadden, Starfish Construction's HSQE Director
Over the years, Starfish Construction has become synonymous with safety and excellence in the construction sector, garnering a reputation for delivering top-tier services while maintaining the highest health & safety and environmental standards. The certification reinforces the company's position as a leader in the industry, providing clients with the confidence that as we manage and complete their projects, it's with meticulous precision and a focus on quality.
Also, achieving certificate success is driven by our core values, which permeate every aspect of our operations.
To view Starfish Constructions Achilles Certificate of Audit, please click here.
To learn more about Achilles, you can visit their website by clicking here.