Sherburn Court Leeds Residents Relationship Sets The Benchmark for Future Projects
Starfish Construction works UK wide on projects from industrial and commercial manufacturing sites, hotels and leisure complexes to large multi-occupancy residential properties. We pride ourselves on our site standards and safety record, no matter which sector or type of project.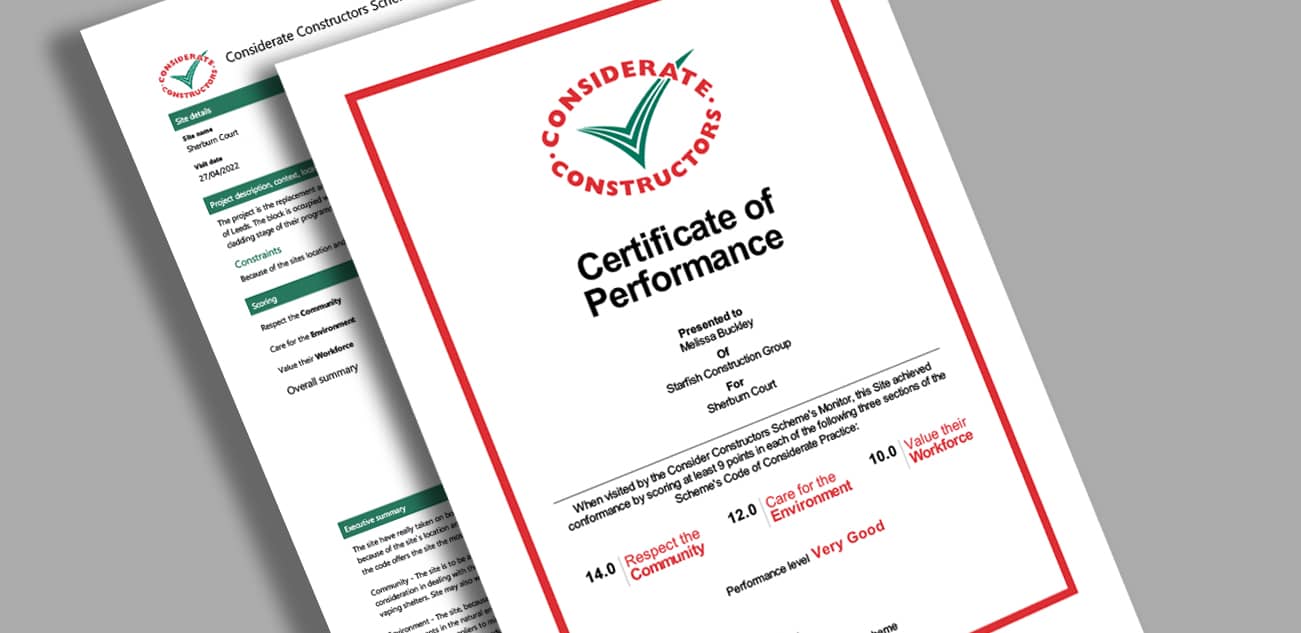 Sherburn Court Leeds Sets the Benchmark for Future Projects
Sherburn Court is a replacement and upgrade of the external cladding and windows on a multi-story tower block. Its location is in a residential suburb of Leeds, and residents will fully occupy the building throughout the scope of work. One of the critical elements of this project is the introduction of Resident Liaison Officer Melissa Buckley. Earlier this year, Melissa joined Starfish Construction and worked hard with the site team to develop processes, systems and communications to support Sherburn Court's residents. Melissa and the project team have achieved high scores on our Certificate of Performance from the Considerate Constructors Scheme with this approach from Starfish Construction.
One area highlighted in the report was our "pre-start data gathering" to help understand the residents' individual and collective needs. The report noted the ongoing interaction as "of the highest order".
Raising Standards and Building Trust
From our previous experience on residential projects, we recognised that excellent communication with residents is essential. Keeping them informed of our progress, interacting with them as individuals, and addressing their concerns make it easier to cope with the upheaval of a construction project. These processes are vital for residential projects, where your work can affect people's daily lives. Our approach also gives the building owner or management company confidence in Starfish Construction's ability to deliver successful outcomes.
What is the Considerate Constructors Scheme?
As a not-for-profit, the Considerate Constructors Scheme is an independent organisation founded to raise standards in the construction industry.
Construction sites, companies and suppliers voluntarily register with the Scheme and abide by the Code of Considerate Practice, designed to encourage best practices beyond statutory requirements. For more information on the Code, please click here.
The Scheme's Code of Considerate Practice has three areas:
Respect the Community
Care for the Environment
Value their Workforce.
The construction industry significantly impacts our lives, with most construction work occurring in sensitive locations. If all construction sites and companies demonstrated competent management, efficiency, and awareness of environmental issues and neighbours, they would become a positive advertisement for the entire industry.
How Starfish Construction Scored
The site visit summary states; The site (Starfish Construction, Sherburn Court) has taken on board the resident's needs and is delivering levels of excellence against this part of the scheme code. The site is to be applauded for its early resident's data gathering work and its ongoing interactions, which show excellent levels of consideration in dealing with these intrusive works.
It was also noted that the site has a multi-ethnic workforce - As a company, Starfish Construction has always valued diversity across age, religion and ethnic background. We now take it for granted these days, but it was nice to have positive comments made. As individuals and as a company, we strive for continuous improvement and as positive as these results are, we will be looking at how we can further improve throughout our planning, operations and relationships. You can never be too complacent, and we always welcome guidance.
The Considerate Constructors Scheme assessor gave excellent advice for the future, and thanked Melissa and Ray Hanson, Senior Site Manager, for clearly demonstrating how they are applying the Scheme's Code on-site. We offer our sincere thanks to Melissa and Ray, who lead by example. Our scores below show where we are excelling and where we also need to show some improvement by making some simple but effective changes.
Respect the Community Excellent - 14 / 15
Care for the Environment Very Good - 12 / 15
Value their Workforce Good - 10 / 15
Overall summary Very Good - 36 / 45
One area highlighted in the report was our "pre-start data gathering" to help understand the residents' individual and collective needs. The report noted the ongoing interaction as "of the highest order". As we stated at the start, Sherburn Court will be the benchmark for Starfish Construction to measure against similar projects in the future, and we hope to achieve even higher marks the next time.