NFRC Gold Award Winner for six consecutive years demonstrates our commitment to safety
Starfish Construction has an exemplary health and safety record across all our divisions. Our dedicated team, headed by Tommy Cadden, Starfish Construction Director of Health, Safety, Quality and Environment (HSQE), takes an industry-leading approach to health and safety across our UK wide projects.
We work across multi construction divisions, but roofing is at the heart of our business. We have been members of the National Federation of Roofing Contractors (NFRC) for many years.
NFRC is the UK's largest roofing trade association. With a history spanning over 125 years, NFRC has established itself as the voice of the roofing industry, constantly adapting to change and innovation to ensure its members are at the forefront.
NFRC actively ensures that all members offer high standards of workmanship and sound business practice through a strict code of practice and vetting procedure, including site inspections and adhering to the Government endorsed standards. The Federation also offers technical advice, guidance to facilitate your training requirements and represents member interests to the wider construction industry and government.
"Health & Safety should never be a box-ticking exercise, especially when lives are potentially at risk. It should always be combined with a desire to educate and make a difference across the whole business and beyond. We set standards to guide and protect our workforce, business partners, suppliers and subcontractors, as well as the general public. To receive the gold standard award for Health & Safety in Roofing from NFRC for 6 consecutive years is something we are all very proud of." Tommy Cadden, Director HSQE, Starfish Construction.
The construction industry is an area that does have elements of 'high risk' attached to operations due to the complexity, materials and equipment throughout all areas of infrastructure. Our Health & Safety record across projects is exemplary and something every member of staff takes very seriously and proud to be part of such an impressive record.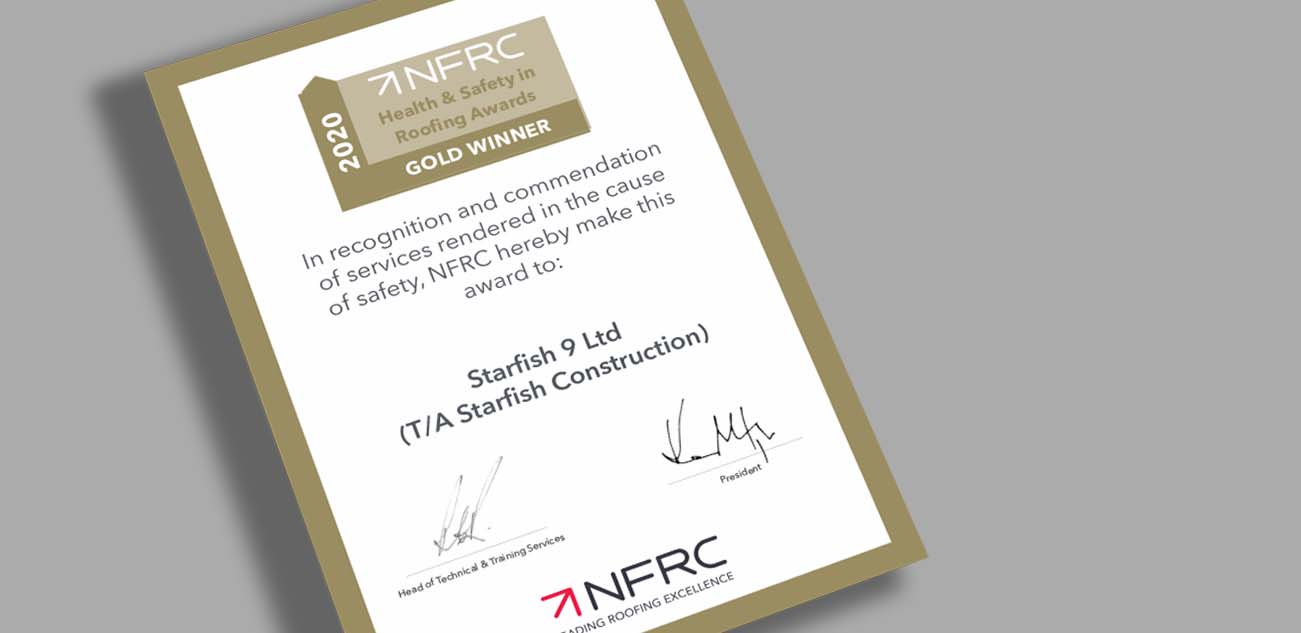 Our Health & Safety strategy and record, the well-being of every Starfish Construction member of staff are vital to us. Healthy working conditions, open and transparent communications and a teamwork approach to support each other are all part of our company culture.
Over the years, it has created a flexible and joined-up approach within our organisation. Everyone is encouraged to support fellow workers, and we have gone to great lengths to remove the stigma that can sometimes surround mental health in society, in general and the construction sector.
For us, this excellent record is not the endpoint. We continue to look at every area possible for us to create a business environment that embraces a workforce looking to develop.