NFRC recognises Starfish Construction Group Health and Safety record
The following article has been updated on the 13.03.2020, as The National Federation of Roofing Contractors (NFRC) has again, for the 5th year running, awarded Starfish Construction Group their gold award for Health & Safety in Roofing.
The NFRC Health & Safety in Roofing Awards aim to promote a positive attitude to Health & Safety and to reduce accidents and hazards, helping the industry, our clients, government bodies and the public sector. The benefit of being an NFRC member is quite clearly seen in the comparison of the latest HSE accident statistics. These show on average 4.1% of skilled construction and building trade workers are injured at work each year, whereas the same figures for NFRC members are only 0.69%.

The Awards have three categories: Gold, Silver and Bronze. Applications are marked in accordance with current regulations and on merit. On this occasion and subsequent years, Starfish Construction Group has been deemed to go beyond what is considered standard good practice.
Health and Safety is an area that every business should strive for perfection. It's something that at Starfish Construction, we set the highest standards for ourselves and our supply chain partners. We have a well-recognised record when it comes to the Health, Safety and wellbeing of employees, site operatives and broader communities that have interaction with our projects.
Our strategy, processes and policies for Health & Safety reflect our broader company attitude to excel at everything we do. Our industry has recognised this approach and record.
With a history spanning over 125 years, NFRC has established itself as the voice of the roofing industry, continually adapting to change and innovation to ensure its members are at the forefront. We fully recognise that for NFRC to award us this accolade at any time is impressive. To continually, year-on-year for 5 years demonstrate the levels required to win the award, is a real testament to our structure and dedicated staff and partners.
"Health & Safety should never be an exercise to tick boxes, and it should be a desire to educate and make a difference across the whole business. We set standards to guide and protect our workforce, business partners, suppliers and subcontractors, as well as the public. To receive the gold standard award for Health & Safety in Roofing from NFRC for 5 consecutive years is something we should be very proud of." Tommy Cadden, Associate Director HSQE, Starfish Construction Group.
The competition, covering the full spectrum of roofing disciplines, brings together the cream of the industry each year. Through all the awards, a range of criteria is taken into consideration by the judging panel, including the degree of difficulty, aesthetics, problem-solving, Health & Safety, craft and environmental qualities.
The construction industry is an area that does have elements of 'high risk' attached to operations due to the complexity, materials and equipment throughout all areas of infrastructure. Our Health & Safety record across projects is exemplary and something every member of staff takes very seriously and proud to be part of such an impressive record.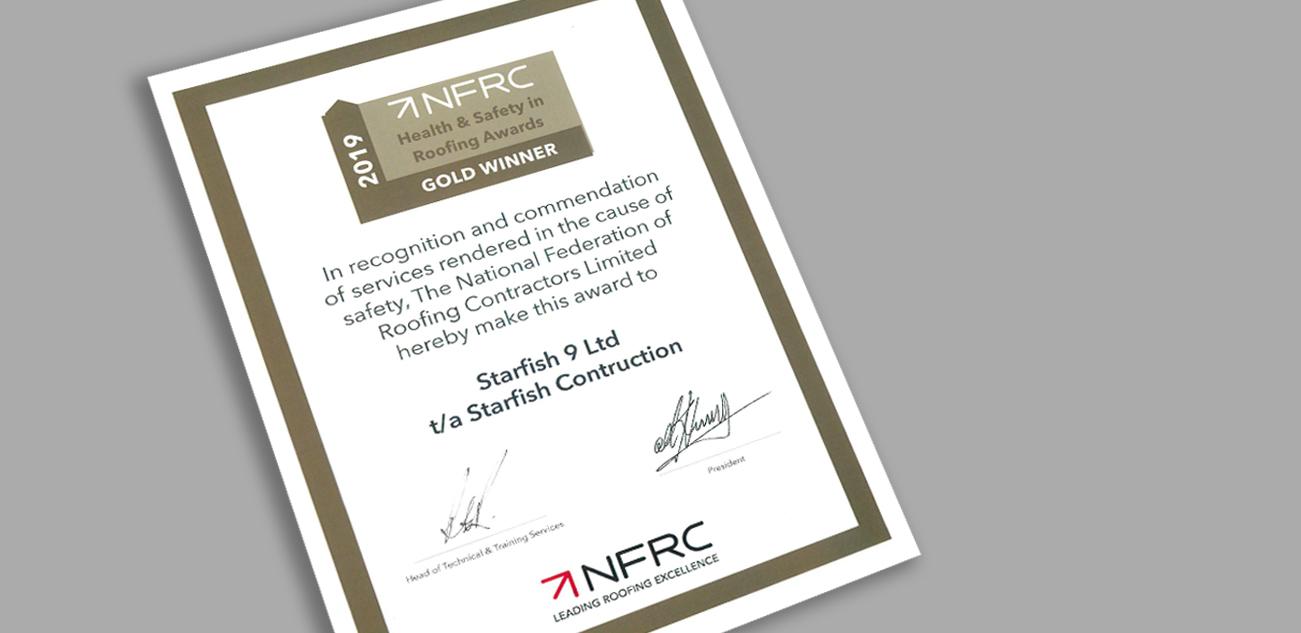 Additionally, to our Health & Safety strategy and record, the wellbeing of every Starfish Construction member of staff is vital to us. Healthy working conditions, open and transparent communications and a teamwork approach to support each other are all part of our company culture.
It has created a flexible and joined-up approach within our organisation over the years. Everyone is encouraged to support fellow workers and we have gone to great lengths in removing the stigma that can sometimes surround mental health in society, in general, and the construction sector in particular.
For us, this excellent record is not the endpoint. We continue to look at every area possible for us to create a business environment that embraces a workforce looking to develop.