Strengthening Our Team, Enhancing Your Experience
We are thrilled to announce the newest addition to our team at Starfish Construction: Barry Curry, our latest accomplished Business Development Manager. With an impressive track record spanning over two decades, Barry will be joining Kevin McCormack, our Associate Director - Business Development, at our Head Office in Motherwell and brings a wealth of expertise and a focused passion for cultivating strong relationships across the construction industry and with property owners, property managers, and surveyors.
At Starfish Construction, we take great pride in upholding the highest standards of professionalism and approachability. We are delighted to welcome Barry, whose extensive experience in sectors such as Energy, Renewable Energy, Fire Safety (active and passive), and Building Envelope Refurbishment perfectly aligns with our core values.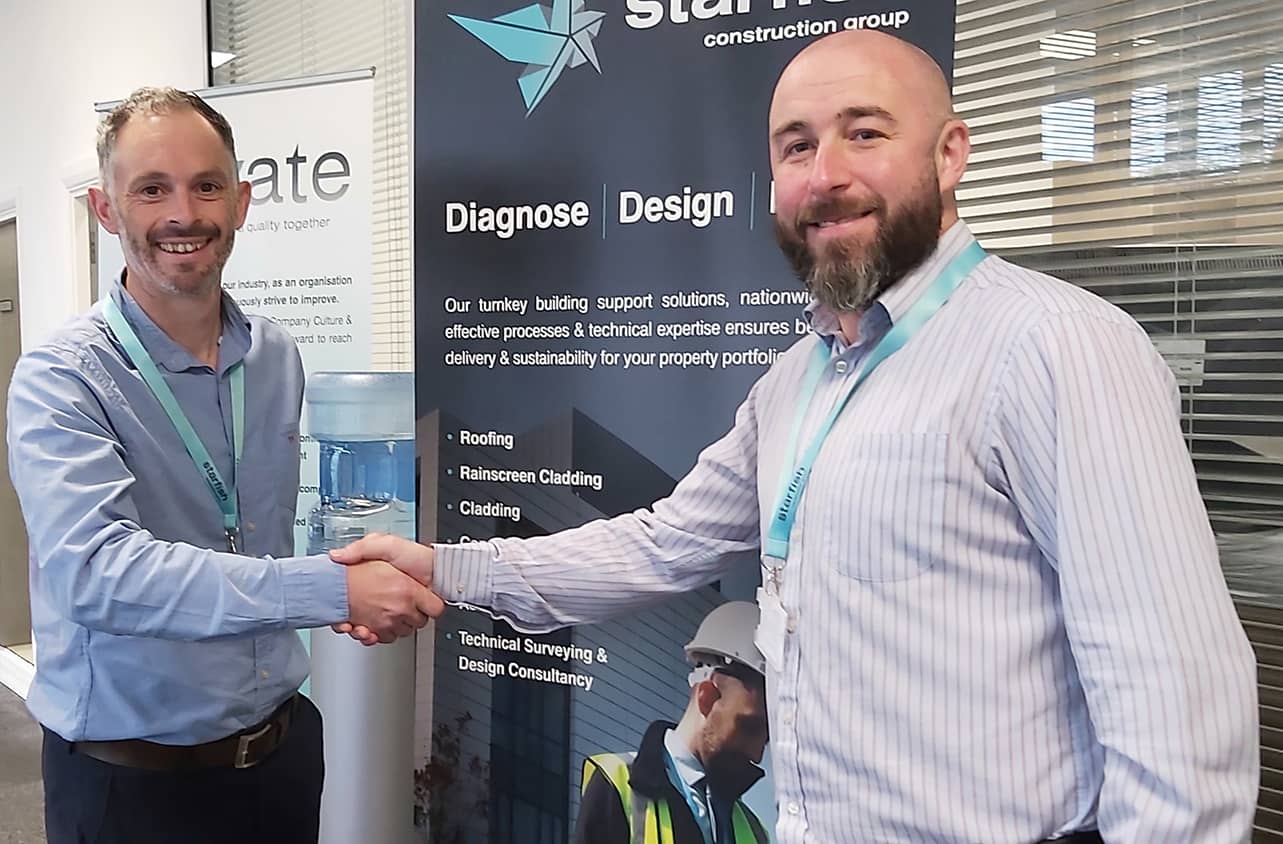 Immediately, Barry has demonstrated a commitment to excellence, which aligns perfectly with Starfish Construction across our operations.
Barry's background in Physics, acquired during his studies at Strathclyde University, provides him with a solid foundation for strategic business development, making him an invaluable asset to our team.
We want to congratulate Barry on joining us, and we are confident that his appointment demonstrates our continued dedication to supporting you, our valued customers. His wealth of knowledge and experience in Fire Safety and Building Envelope Refurbishment will prove essential and highly beneficial, especially for projects involving Hi-Rise facades and those with residents.
Starfish Construction Business Development Director Kevin McCormack aptly puts it:
"Barry's expertise showcases our commitment to providing exceptional client support. His knowledge in Fire Safety and Building Envelope Refurbishment and our skilled team members ensure that we offer you industry-leading knowledge and expertise, cementing our position as your trusted partner. Barry is certainly someone, which it is evident to me, who can provide knowledge transfer to customers for making informed decisions throughout the sales process."
Barry's achievements throughout his career testify to his exceptional capabilities. From being a BAFE registered Engineer for firefighting equipment until 2018, demonstrating his commitment to safety, to successfully supporting customer sales relationships on contracts ranging from £5K to £1M, he's consistently delivered outstanding results for employers and customers throughout his career.
On his appointment, Barry told us:
"I am thrilled to be joining the exceptional team at Starfish Construction. The opportunity to enhance brand visibility and communicate the exceptional value of our service solutions to our diverse range of customers and industry professionals is truly exciting. By combining my technical knowledge with my expertise in business development support, I am confident we deliver unparalleled support across projects and operations, driving growth and ensuring the success of our clients and our company."
At Starfish Construction, we are devoted to delivering excellence. Our experienced and driven team, supported by our matrix of divisions, provides us with an exceptional platform to communicate why we are the partner of choice for numerous sectors and customers. Barry's role is pivotal in aligning with and further elevating our growing reputation in the roofing and cladding industry.
We encourage you to connect with Barry on LinkedIn. You can tap into his extensive expertise and benefit from meaningful conversations regarding your projects and challenges by engaging with him.
To learn more about our commitment to excellence and the comprehensive services we offer, we invite you to explore our website.
At Starfish Construction, we are dedicated to enhancing your experience and exceeding your expectations at every turn.
Welcome, Barry, and we all look forward to working with you.